Around August every year, India celebrates Raksha Bandhan, or Rakhi, a festival that celebrates the special bond between brothers and sisters. It is celebrated all over India but is a bigger festival in north India. But did you know of a story that connects Rakhi with the festival of Onam that is celebrated in south India?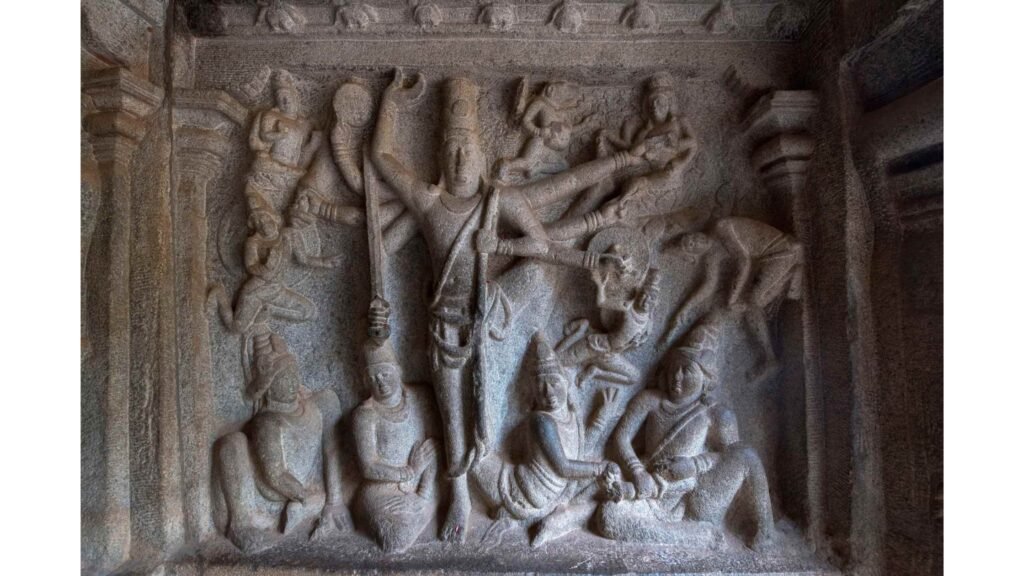 This 7th to 8th century carving from Mamallapuram tells us the origins of how Onam came to be celebrated in the south. Here's the story.
Many, many eons ago, there lived a wise and powerful demon king called Mahabali. This king was a great devotee of Lord Vishnu, and he was as popular in the heavens as he was on Earth. But Indra, the king of heaven, was unhappy with Mahabali's rising power and popularity and started feeling insecure about his own position. He complained to Lord Vishnu. And Lord Vishnu had to find a way to settle this matter.
It was well known that Mahabali was a very generous king who rarely refused to grant a request. One day, a little man named Vamana came to meet him. He didn't want much and asked for only as much land as three paces of his feet would cover. It was a strange request, but Mahabali agreed. Miraculously, Vamana grew taller and taller. With one step, he covered the Earth, with the second he covered the sky. He now asked Mahabali where he should place the third step. Mahabali understood that Vamana was none other than Lord Vishnu. So he knelt and offered his own head. Vishnu put his foot on Mahabali's head and pushed him down to the netherworld, which now became Mahabali's kingdom.
But Mahabali had always been kind and just. So, Vishnu left him with two new boons. He promised that Mahabali would always have his protection. And he also promised that once every year Mahabali could return to Earth and spend time with his beloved subjects. So, even today, the state of Kerala celebrates this annual return of Mahabali as the festival of Onam. It is this story that is depicted in the panel at Mamallapuram.
But Mahabali is responsible for one more Indian festival. Story goes that one day a woman came to meet Mahabali at his palace in the netherworld. She had a grievance. Her husband was always at work and she felt lonely and scared. Mahabali invited her to live in the security of his palace. She moved in and all was well. Mahabali looked upon her as his sister. But very soon, she came up with another grievance. She said she missed her husband and wanted him back. Mahabali promised to make that happen. But who was her husband? The palace watchman. He was always on sentry duty and had no time for her. And that's when Mahabali remembered Vishnu's promise of eternal protection. That watchman HAD to be Lord Vishnu himself, quietly keeping watch over him. Mahabali was delighted! This meant that his newfound sister was none other than Lakshmi, the goddess of wealth, and Vishnu's wife. Between them they had ensured that his kingdom stayed safe and prosperous.
Just as he had promised, Mahabali sent Vishnu back with Lakshmi. On her way out, Lakshmi tore a strip of cloth from her shawl and tied it around Mahabali's wrist. The strip would be his protection, and a symbol of her sisterly affection. Mahabali gave her many gifts and sent her on her way.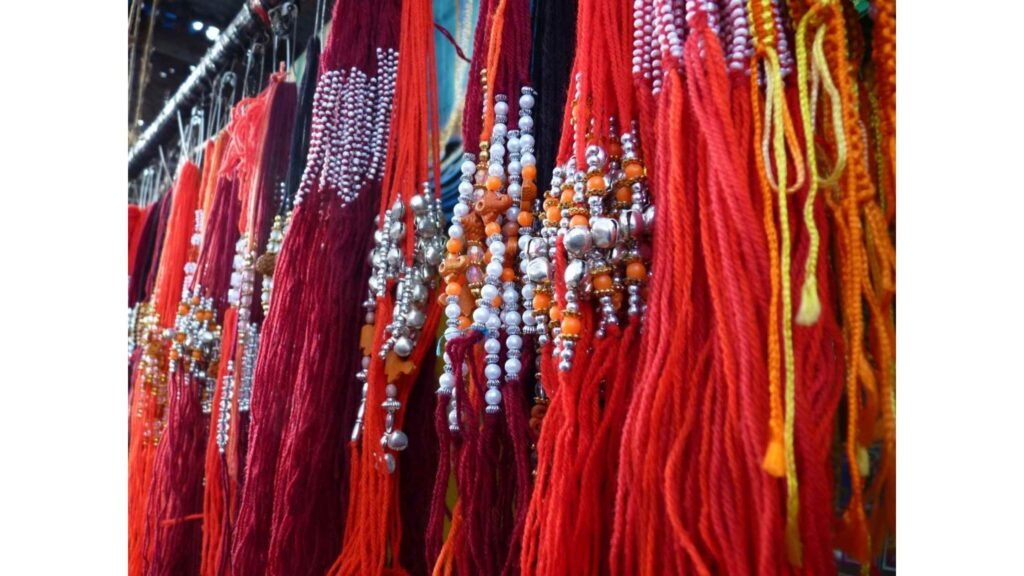 This is one of the many stories behind the very charming festival of Raksha Bandhan. To this day, Raksha Bandhan is celebrated in north India, not just by Hindus but also Jains and Sikhs. Sisters still tie a length of string around their brothers' wrists as a mark of affection during the festival. And the brothers still reciprocate with gifts.