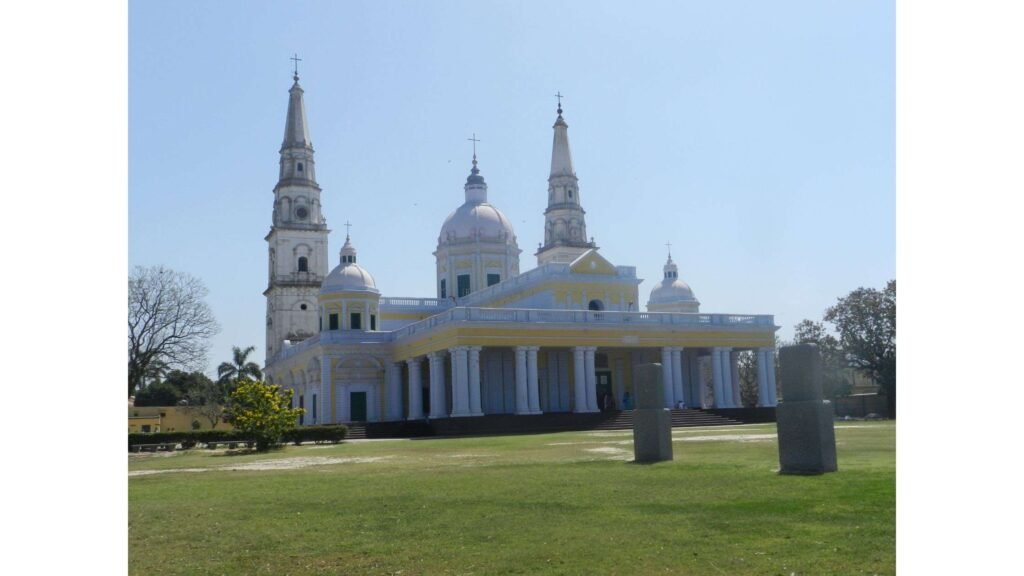 This beautiful building – the Basilica of Our Lady of Graces – is located about a hundred kilometres away from Delhi in a small town called Sardhana. A basilica is a title of privilege conferred by the Pope on churches of historical or artistic significance. There are more than 70 basilicas in Asia, and India, with 28 basilicas, has the most.
How did this church in a quiet town of Uttar Pradesh become a basilica? The answer lies in the unusual story of its founder – Joanna Nobilis Sombre, née Farzana Zebunnisa, aka Begum Samru.
Begum Samru's tomb lies inside the church, topped by an imposing 18-foot marble statue of her seated on a throne, surrounded by her Indian and European associates. The intricate bas-reliefs on the tomb provide glimpses into her life story. Her real story was far more dramatic, though.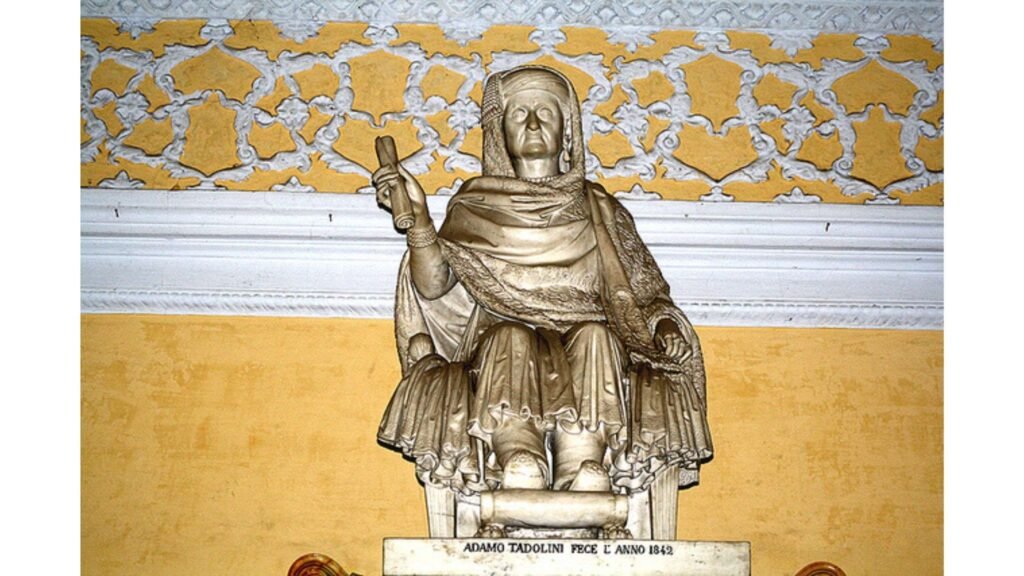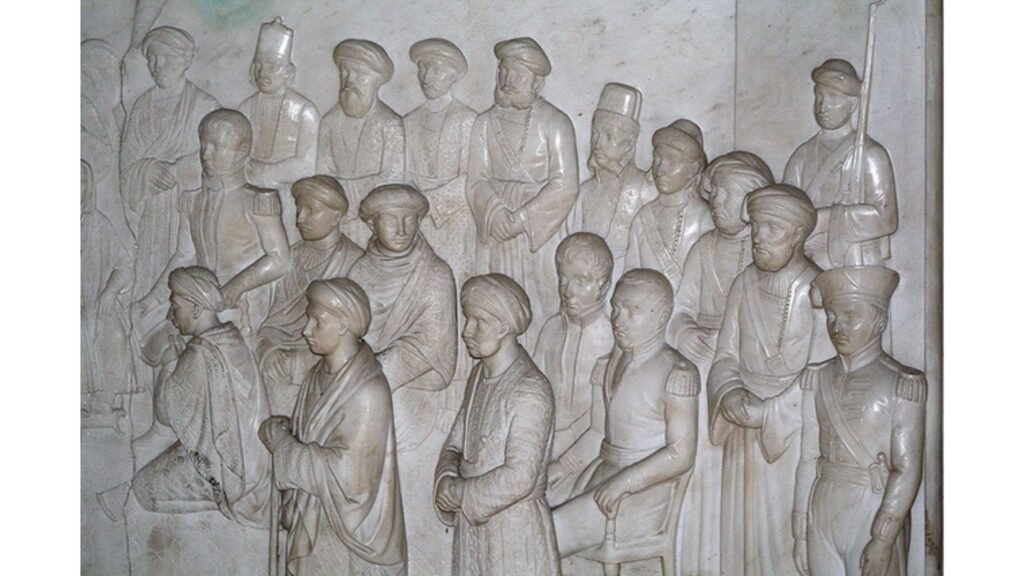 Not much is known of Begum Samru's childhood. Many historians believe that she was born Zebunnissa to Mughal nobleman Latif Ali Khan, near Delhi. Her father died when she was still young, and she and her mother were thrown out of the family villa by Latif's first wife and son. They arrived in Delhi penniless, and soon after, Zebunnissa's mother passed away. Zebunnissa found refuge in a popular courtesan's house and was trained to entertain men. She was a smart, attractive teenager, who was quick to learn.
In 1767, she met Walter Joseph Reinhardt, a Franco-German mercenary, at the courtesan's house, and left to live with him. She was still a teenager then while he was in his forties.
India at that time was full of risky opportunities. The Mughals were declining; the Marathas, Sikhs and the Mysoreans were expanding; the French and the British were trying to outsmart each other while edging out the Dutch; and there were numerous prospects in smaller kingdoms. Consequently, European soldiers of fortune were drawn to the subcontinent, and Reinhardt was one of them.He enlisted as a private in the French army and arrived in India under the name 'Summer'. Because of his serious demeanour, however, he earned the nickname 'Le Sombre', and the name stuck on, which eventually became the Indianised 'Samru'.
As a mercenary, Samru served the highest bidder, including the French, the British, and Mir Qasim, the British-installed Nawab of Bengal. For a while, he was the general of the Bharatpur army and even served as Governor of Agra. He raised his own army of Indians and Europeans, trained them in the finest French and British methods. His services were in high demand as he traveled through Lucknow, Rohilkhand, Agra, Bharatpur, Delhi, and various regions along the Ganga-Yamuna Doab. Zebunnissa was his constant companion, even participating directly in the military campaigns, learning life's lessons on the fast-track.
At one point, Samru served the Mughal king Shah Alam II, and left a profound impression on him. As a gesture of appreciation, Shah Alam granted him the jagir (fiefdom) of Sardhana, making Samru its feudal ruler. The couple prepared to settle down in Sardhana, but then tragedy struck.
Samru passed away in 1778, leaving Zebunnissa devastated. However, she quickly assumed command of her husband's mercenary army, showcasing her natural leadership skills. Despite her petite stature of barely 4 feet 6 inches, the battle-hardened troops readily accepted her authority.
Subsequent events would prove that their trust in her was well-placed. Zebunnissa emerged as a hands-on leader, even leading cavalry charges herself. She impressed the Mughal ruler and ensured that Sardhana Jagir was transferred legally to her. His trust too was well placed, because twice she rescued him from a tight spot.
In 1783, she negotiated a settlement with the Sikh General Baghel Singh at Tis Hazari, preventing an attack on Delhi in exchange for a generous payment by Shah Alam. In 1787, she broke the siege of Red Fort by the Rohilla chieftain Ghulam Abd al Qadir Ahmed Khan with a bold attack. Shah Alam was so grateful that he gave her the title Farzand-e-Azizi (meaning 'beloved daughter') or Farzana for short.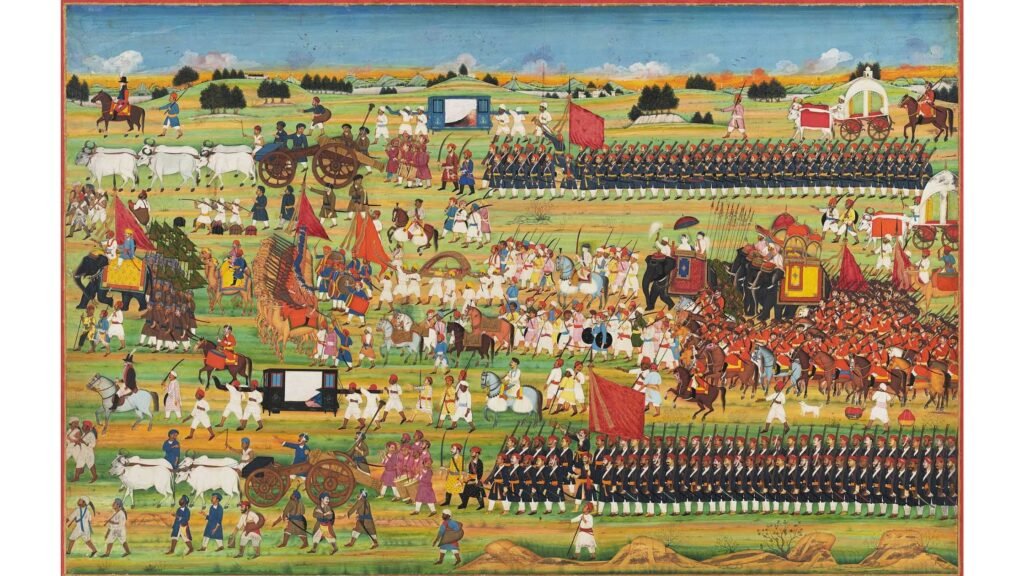 Begum Samru's military exploits extended beyond these instances, often placing her on the opposite side of the British. In the Battle of Assaye in 1803, she fought alongside the Marathas.Although the Maratha Alliance suffered defeat, her army was the only contingent that did not scatter and retreat. Instead, they made an orderly retreat to fight another day. But by 1803 she realised that the British were the emerging superpower and sued for peace. At the peace talks, British General Lake was so impressed by her that he gave her a kiss, completely scandalising her troops! She pacified them by explaining it away as a fatherly kiss. She thus became a British ally, while retaining her autonomy.
Begum Samru proved herself not only as a courageous military commander, but also as a competent civil administrator. Under her rule, the Sardhana Jagir flourished, generating substantial revenues. She also built several magnificent monuments, including a palace in Chandni Chowk, which allowed her to remain close to the Mughals, who were almost like family to her. This palace became a site of action during the 1857 mutiny. Now called Bhagirath Palace, it houses the Central Bank, but is a shadow of its former glory. In Sardhana, one of her palaces currently serves as St. Charles Inter College, while another functions as a boys' school. Her Jharsa Palace near Gurugram serves as the District Collector's quarters.
The most significant monument is the basilica, of course. In 1781, Begum Samru converted to Christianity. We may never know whether it was prompted by her husband's memory or some other strategic consideration. She took the Christian name Joanna Nobilis Sombre (after Joan of Arc) and became the first and only native Catholic ruler of an Indian princely state!
She commissioned her own Italian military engineer, Major Anthony Reghelini, to build a church for Sardhana. He produced a fusion of Italianate and Islamic styles. The minarets outside and the pietra dura (ornamental stonework embedded in the walls) inside are inspired by Mughal design, while the dome and marble work are inspired by St Peters in Rome. It cost Rs 4 lakhs to build (a huge sum then) but Reghelini erected a sturdy church that has withstood the test of time for two centuries, without any major issues.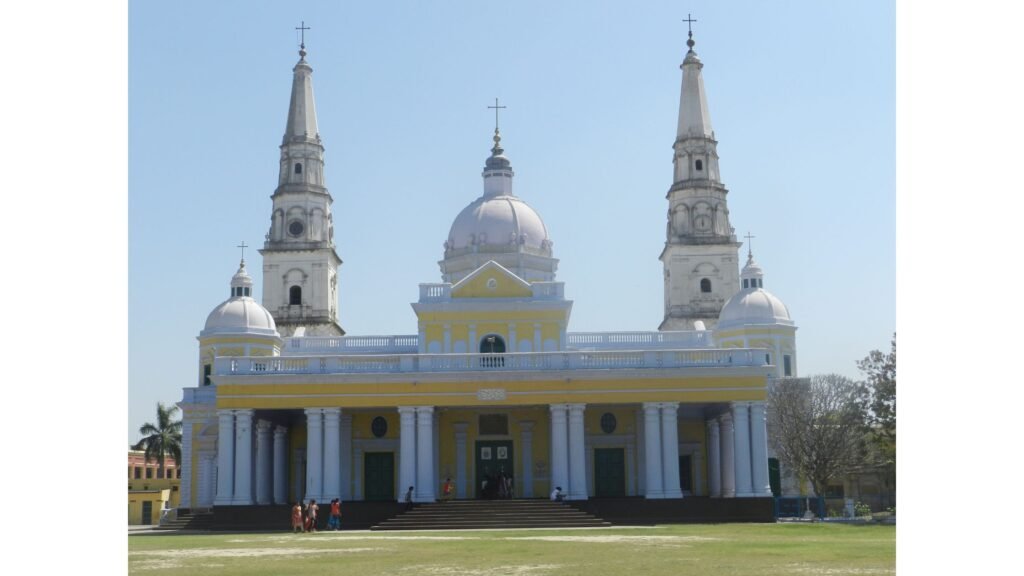 In 1822, the church opened its doors to the public, and Begum Samru wrote to Pope Gregory XVI, requesting the appointment of a bishop. He obliged by sending Bishop Julius Caesar Scotti in 1834. During her lifetime she continued to support the church and other charitable institutions receiving tokens of appreciation from the Pope himself.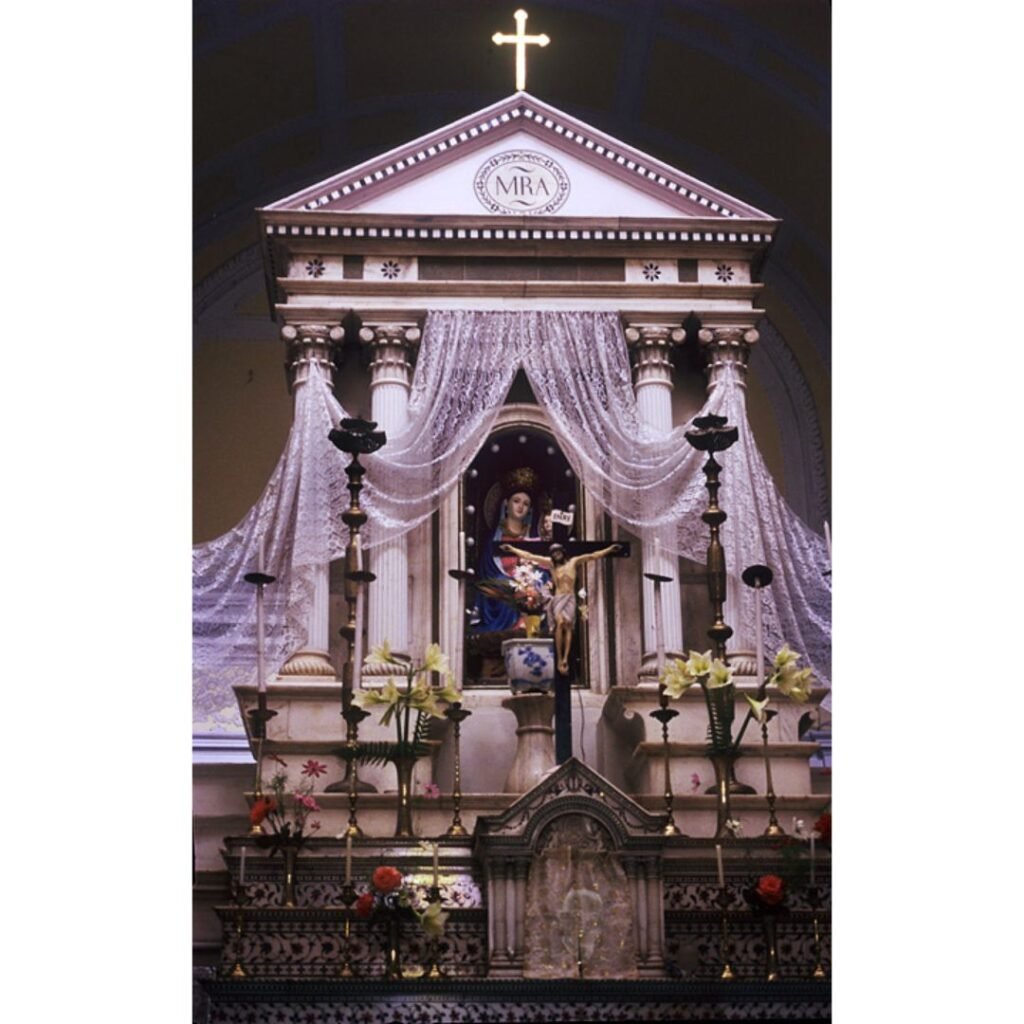 Begum Samru died peacefully in 1836, aged about 83. Since she had no children, she bequeathed most of her property to Reinhardt's son from his previous marriage. Unfortunately, the British usurped most of the estate which was valued at about 4 billion USD at 1953 rates. That dispute regarding the legacy has not been conclusively resolved even now, after 150 years!
However, her true legacy, the basilica, is priceless. Recognising its rich history, Pope John XXIII elevated it to the status of a basilica in 1961. Today the monument stands testament to the incredible story of a woman who defied the limits of her time.